Day 2 of National Hurricane Preparedness Week - STORM SURGE!
A storm surge is an offshore rise of water associated with a low pressure weather system, typically tropical cyclones and strong extratropical cyclones. Storm surges are caused primarily by high winds pushing on the ocean's surface. The wind causes the water to pile up higher than the ordinary sea level. Low pressure at the center of a weather system also has a small secondary effect, as can the bathymetry of the body of water. It is this combined effect of low pressure and persistent wind over a shallow water body which is the most common cause of storm surge flooding problems. The term "storm surge" in casual (non-scientific) use is storm tide; that is, it refers to the rise of water associated with the storm, plus tide, wave run-up, and freshwater flooding. "Tidal surge" is incorrect since there is no such thing. When referring to storm surge height, it is important to clarify the usage, as well as the reference point. The U.S. National Hurricane Center defines storm surge as water height above predicted astronomical tide level, and storm tide as water height above NGVD-29, a 1929 benchmark of mean sea level. Most casualties during a tropical cyclone occur during the storm surge.
Along the coast, storm surge is often the greatest threat to life and property from a hurricane. In the past, large death tolls have resulted from the rise of the ocean associated with many of the major hurricanes that have made landfall. Hurricane Katrina (2005) is a prime example of the damage and devastation that can be caused by surge. At least 1500 persons lost their lives during Katrina and many of those deaths occurred directly, or indirectly, as a result of storm surge.
Storm surge is an abnormal rise of water generated by a storm, over and above the predicted astronomicaltides. Storm surge should not be confused with storm tide, which is defined as the water level rise due to the combination of storm surge and the astronomical tide. This rise in water level can cause extreme flooding in coastal areas particularly when storm surge coincides with normal high tide, resulting in storm tides reaching up to 20 feet or more in some cases.
_______________________________________________________________________
Understanding the difference between National Weather Service watches and warnings is critical to being prepared for any dangerous weather hazard, including hurricanes.
A watch lets you know that weather conditions are favorable for a hazard to occur. It literally means "be on guard!" During a weather watch, gather awareness of the specific threat and prepare for action - monitor the weather to find out if severe weather conditions have deteriorated and discuss your protective action plans with your family.
A warning requires immediate action. This means a weather hazard is imminent - it is either occurring (a tornado has been spotted, for example) - or it is about to occur at any moment. During a weather warning, it is important to take action: grab the emergency kit you have prepared in advance and head to safety immediately. Both watches and warnings are important, but warnings are more urgent.
NHC Warning Coordination Meteorologist Daniel Brown describes the dangers of storm surge, the number one killer in a tropical cyclone.
National Weather Service Products
| | |
| --- | --- |
| National Hurricane Center | Local Weather Forecast Office (locations) |
| Public Advisories offer critical hurricane watch, warning and forecast information.Forecast/Advisories provide detailed hurricane track and wind field information.Probabilities offer locally specific chances of experiencing tropical storm, strong tropical storm and hurricane force winds out to 5 days to better know if one will be impacted and when these conditions may occur. | Hurricane Local Statements (HLS) give greater detail on how the storm will impact your area.Non-precipitation weather products provide High Wind Watches and Warnings for inland areas that could experience strong winds. |
How to Stay Informed
Use all of the above information to make an informed decision on your risk and what actions to take. Listen to recommendations of local officials on TV, radio and other media and to NOAA Weather Radio All Hazards for the latest tropical cyclone information.
Survival Gear!
Wouldn't you like to be a Prepper too?
Think about preparedness; at home, at work, at school, even in your car.
Are you Ready? 
Check your Emergency Plan and Evacuation Routes everywhere you normally spend time.
Check your Emergency Supplies:
Check your expiration dates (food, water, batteries)
Count your stock... is it enough?
Don't let your gas tank get below half-full
Keep cash on hand - ATMs may not be available, and you cannot count on credit cards in an emergency.
Think Ahead-Plan Wisely-Prepare Yourself to Survive!
Survival Gear Including: Survival Kits, C.E.R.T. Products and gear, Pet Emergency Kits/Supplies, Outdoor Supplies, Triage Units, Trauma Kits, Search & Rescue Equipment & Disaster and Survival Videos, Emergency Shelters, Lighting, Food & Heating.
Factors Impacting Surge
Storm surge is produced by water being pushed toward the shore by the force of the winds moving cyclonically around the storm. The impact on surge of the low pressure associated with intense storms is minimal in comparison to the water being forced toward the shore by the wind.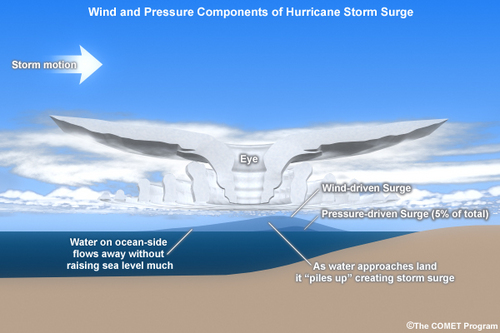 Wind and Pressure Components of Hurricane Storm Surge
The maximum potential storm surge for a particular location depends on a number of different factors. Storm surge is a very complex phenomenon because it is sensitive to the slightest changes in storm intensity, forward speed, size (radius of maximum winds-RMW), angle of approach to the coast, central pressure (minimal contribution in comparison to the wind), and the shape and characteristics of coastal features such as bays and estuaries.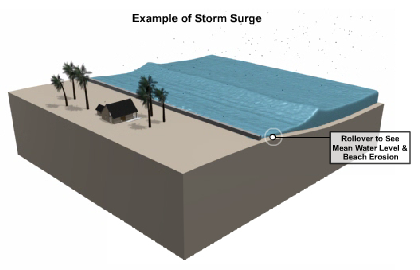 Click on Image to Play Video
Other factors which can impact storm surge are the width and slope of the continental shelf. A shallow slope will potentially produce a greater storm surge than a steep shelf. For example, a Category 4 storm hitting the Louisiana coastline, which has a very wide and shallow continental shelf, may produce a 20-foot storm surge, while the same hurricane in a place like Miami Beach, Florida, where the continental shelf drops off very quickly, might see an 8 or 9-foot surge. More information regarding storm surge impacts and their associated generalizations can be found in the FAQ section.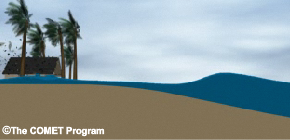 Surge animation with shallow continental shelf (Click on Image to Play Video)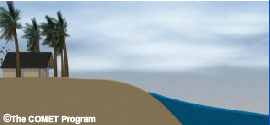 Surge animation with steep continental shelf (Click on Image to Play Video)
Adding to the destructive power of surge, battering waves may increase damage to buildings directly along the coast. Water weighs approximately 1,700 pounds per cubic yard; extended pounding by frequent waves can demolish any structure not specifically designed to withstand such forces. The two elements work together to increase the impact on land because the surge makes it possible for waves to extend inland.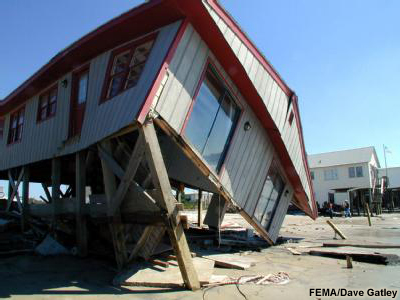 Although elevated, this house in North Carolina could not withstand the 15 ft (4.5 m) of storm surge that came with Hurricane Floyd (1999)
Additionally, currents created by tides combine with the waves to severely erode beaches and coastal highways. Buildings that survive hurricane winds can be damaged if their foundations are undermined and weakened by erosion.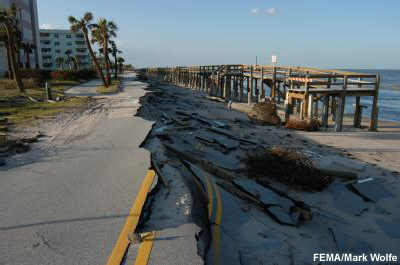 Beachfront road and boardwalk damaged by Hurricane Jeanne (2004)
In confined harbors, the combination of storm tides, waves, and currents can also severely damage marinas and boats. In estuaries and bayous, salt water intrusion endangers the public health, kills vegetation, and can send animals, such as snakes and alligators, fleeing from flooded areas.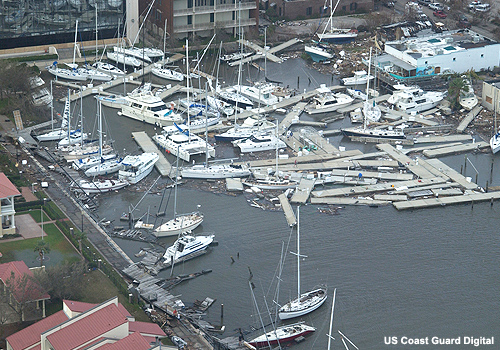 Damaged boats in a marina
Notable Surge Events
Surge Vulnerability Facts
From 1990-2008, population density increased by 32% in Gulf coastal counties, 17% in Atlantic coastal counties, and 16% in Hawaii (U.S. Census Bureau 2010)
Much of the United States' densely populated Atlantic and Gulf Coast coastlines lie less than 10 feet above mean sea level
Over half of the Nation's economic productivity is located within coastal zones
72% of ports, 27% of major roads, and 9% of rail lines within the Gulf Coast region are at or below 4 ft elevation (CCSP, SAP 4-7)
A storm surge of 23 ft has the ability to inundate 67% of interstates, 57% of arterials, almost half of rail miles, 29 airports, and virtually all ports in the Gulf Coast area (CCSP SAP 4-7)